Modu Tech Takes the Leading Edge
With 25 years of turnkey carpentry business under our belt, Modu  Tech has witnessed some significant changes in the Baltimore construction scene.
Back in the 1980s, most General Contractors purchased the wood for their carpentry subcontractors to install, but Modu Tech decided to venture from the norm and took control of its own materials by opening a lumberyard and manufacturing facility to produce open web wood floor and wood roof trusses as well as open wall panels for its multifamily projects. These distinctive services have served the company well. But, with success often comes competition and quoting our President Scott Stevens, "There's a lot of competition. Before, you could only go to three people for a price. Today, you can get a price from 15 people. The problem with that is, it's very hard for the General Contractor to distinguish between value, so margins have been very low."
In the last ten years, the industry has shifted from about 20 percent of General Contractors purchasing their framing turnkey to about 80 percent buying lumber and trusses through a Labor Contractor.
Therefore, our next step in efficiency and cost effectiveness was to form a partnership with a larger Truss manufacturing company. In 2015, Modu Tech and Stark Truss Company formed Stark Truss Baltimore and this partnership expanded Modu Tech's production at a lower cost.
In a numbers-based procurement environment, Modu Tech has had to devise ways to stand out when contending with less experienced firms and lower bids. In addition to keeping material production in-house, we rely on our employees' experience and the efficiency gained from using a variety of technologies. Read the full article from Building Baltimore, an ABC trade publication.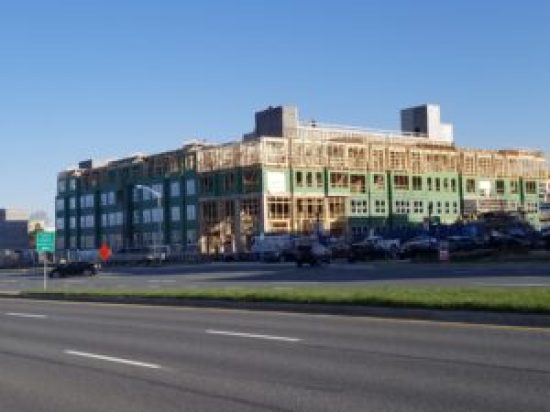 Our History
Heil Builders has been in existence since 1976 and has completed projects in 15 states, including California, the Mid-West and East Coast. Some of the project owners include: Trammel Crow, Courtyard by Marriott, Residence Inn Corporation, Property Company of America and The Hills Development Co., Harkins Builders, The Hunt Building Company Ltd., and Struever Brothers, Eccles & Rouse. Typically, Heil Builders completes between 800-1200 units per year.
In 1989, Modu Tech, the manufacturing arm of Heil Builders, was opened in Baltimore, Maryland. This facility produces open web wood floor trusses, wood roof trusses and open wall panels, as well as provide panel, truss and lumber packages to builders. We employ city residents and utilizes "green building" technology in production of our precision building components.
Since its inception, Modu Tech has serviced many of the larger builders in the Maryland-Delaware-Pennsylvania-Virginia area and many other customers along the East Coast and nationwide. Coupled with the manufacturing proficiencies of Modu Tech are the erecting capabilities of Heil Builders.
In March of 2015 Modu Tech formed a partnership with Stark Truss to form Stark Baltimore. This partnership increased Modu Tech's manufacturing capacity and competitiveness in Turkey framing. Combining over 25 years of building talent with 50 years of building manufacturing to bring the customer the most efficient and cost effective Turnkey Package.